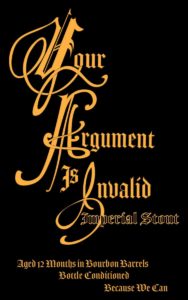 A whiskey barrel aged Imperial Stout.  Brewed the first week of 2015 then aged 12 months in fresh wet whiskey barrels from Colorado.  Rich, Complex, Floral, Fruity, and Bitter.  Served on nitrogen, this beer is a thing of beauty.
Color
40 SRM
IBU
90
Yeast
Thunderhead Ale
ABV
9.8 %
Malt
Pilsner, Roast Barley, Wheat, Wood Smoked, Rolled Oats
Primary Flavors
Malt, Plumb, Raisen, Roast, Alcohol, Oak, Bitterness.